Donors like you make CJSR's work possible! Thanks for supporting Edmonton's volunteer powered, campus-community radio station! This FunDrive we beat our original goal as well as our stretch goal to raise a total of $110,488.68!
Swag levels of $75 and lower will be mailed to you, free of charge! Keep an eye out for your Friends of CJSR card in your mailbox 😉
For higher levels, our swag pickup event will be at THE GRIZZLAR COFFEE & RECORDS (10557 109 St) on Sunday, November 28 from 10AM to 4PM. Afterwards, swag will be available at the station for pick up by appointment.
Plan your trip to the Grizzlar Coffee & Records here. Venue is accessible with gender-neutral bathrooms, and has parking in the back.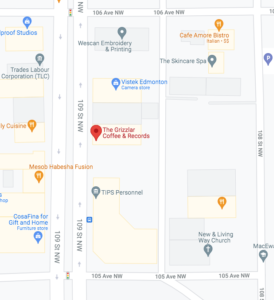 See you there!
And if you didn't have a chance to donate yet, it's never too late. Click here and order your swag now!