These events are springing back up in Edmonton this May and June after a long break due to the pandemic.
Edmonton is known as 'festival city,' with a vibrant culture and awesome events taking place year-round. The pandemic has put a pause on many of these over the past few years, but many summer events that we have missed out on are coming back to life this year! Check out this list for fun festivals and events to attend this spring.
This festival runs over two weekends, displaying art installations in downtown, including massive inflatable sculptures and vignettes. The installations will be at the Yellowhead Brewery, Enbridge Centre, and Alex Decoteau Park. There will be daily events at the Alex Decoteau Park throughout the duration of the festival, including buskers, food trucks, and performances. On May 28th and 29th from 1 p.m. to 6 p.m., there will be a free dog-friendly event presented by Bark and Brew with street performers, caricature artists, a doggie photo booth, and live music. Finally, on June 4th, there will be a block party on Rice Howard Way from 5 p.m. to 10 p.m. There is plenty more to do, so check out the website and see what's going on!
Image from www.edmontondowntown.com/spark.
UFest will be at Borden Park on May 27th at 5 p.m. – 11 p.m. and on May 28th at 11 a.m. – 11 p.m. Come by to celebrate Ukrainian food, culture, music, art, and dance! The festival is free to attend, but some of the vendors are cash-only, so make sure you bring some cash with you.
Image from www.ufest.ca.
The Alberta Symphony Orchestra Society is putting on Music in the Air at the Hawrelak Park Amphitheater from 7 p.m. to 9 p.m. on July 1st. Tickets are by donation, with a suggested donation amount of $35, but donations are not necessary, and this event is accessible to all! Proceeds go to the Kids Kottage Foundation. Music will be performed by soprano singer Cara Lianne McLeod and pianist Emilio De Mercato.
Image from www.albertasymphony.com/.
This is a multi-day festival in St. Albert for children to have fun and get creative. This family event will feature entertainers, including artists and performers, and will provide children the opportunity to make crafts and engage with the entertainers.
Image from www.stalbert.ca/childfest.
On June 3rd at 4 p.m., there will be a pride month kick-off event at City Hall Plaza organized by Capital Pride Edmonton. The event will include a ceremonial Indigenous prayer to welcome everyone to the space, the Mayor's proclamation, speeches from City Councilors, and performances by local artists. The event is for all ages and tickets are free.
Image from www.capitalprideyeg.ca.
Nextfest is Edmonton's annual multidisciplinary arts festival that showcases new and emerging artists in the Edmonton area! It is an opportunity for new artists to share their work, meet new people, and grow as artists. The festival includes everything from dance, film, music, visual art, and even night club events. Many of the events are held at the Roxy Theatre, but there are some free outdoor shows as well. CJSR will be at the free outdoor music events at the Lot on Saturday, June 4th and 11th from 2 p.m. to 4 p.m. Come celebrate new artists in Edmonton!
Image from Nextfest's website, www.nextfest.ca.
Presented by Fruit Loop and TD, Pride Reunited will take place in the Old Strathcona area from June 3rd to 5th. It is a free, family-friendly event with outdoor shows, workshops, beer gardens, late night dance parties, and more! Its sister event, Pride Recharged, will be taking place the next weekend on June 11th at the Starlite Room, starting at 8 p.m. Don't miss these fun-filled pride weekend events!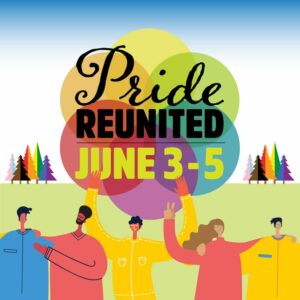 Image from www.fruitloop.ca.
Heart of the City Festival is a free, two-day family-friendly celebration of music and art! The festival takes place on June 4th and 5th at Giovanni Caboto park. CJSR will be there on June 5th, so come find our table and say hi!
Image by Diego Lapetina Photography, from www.heartcityfest.com.
Sustainival is a fair and midway powered entirely by renewable energy. It was started with the goal of getting people thinking about and engaging with sustainability. It features attractions for all ages, from the Peter Paul dinosaur ride to the Gravitron to food vendors of all kinds, with a focus on those who sell eco-friendly, organic, locally made products and services.
Image from Sustainival's website, www.sustainival.com.
Freewill Shakespeare in the Park is a month-long event that takes place at the Heritage Amphitheater. Artists and organizers put on contemporary, innovative plays by William Shakespeare to make his work more accessible. Whether you've never seen a Shakespeare play or are a seasoned theatre enthusiast, you will find something to love about these productions. This year, they are presenting A Midsummer Night's Dream and Measure for Measure.
Image from www.freewillshakespeare.com.
OutLoud St. Albert will be hosting St. Albert Pride at Rotary Park on June 18th, from 11 a.m. to 7 p.m. There will be dance performances, visual artists, vendors, food, and music! CJSR will be tabling at this event, so come say hi and show your support for this family-friendly celebration of pride!
Image from www.outloudstalbert.ca/pride.
This event, called the "Dog City's Got Talent" 2022 show and festival, will be at the Back Yard, a new, pet-friendly venue in Edmonton, on June 18th. Tickets are on sale now and can be purchased in advance for $20. You can also sign up for the dog talent show to showcase your pet's skills! The event features a dog show and contest, as well as fun activities for pets and people, dog swag, live music, food, and beverages.
Image from www.dogcityfestival.com.
The Edmonton Filipino Fiesta is taking place on Saturday and Sunday, June 18th and 19th at Borden Park from 9 a.m. to 5 p.m. This event celebrates the vibrant Filipino community in Edmonton and showcases Filipino culture through performances, music, food, art, and more! This family event is free to attend. CJSR will be here on the 19th, so come by to say hello!
Image from www.edmontonfilipinofiesta.com.
The Alberta Circus Arts Festival, hosted by Firefly Theatre and Circus, will showcase circus performances from professionals and new and emerging artists. There will also be professional development workshops for people interested in getting involved in circus performances. Some shows have a cost associated with them, and tickets can be purchased on the websites. Other events, like afterparties, are free to attend.
Image from www.albertacircusarts.com.
The Night Market at the River Cree is presented by the Enoch Cree Nation and will take place at the River Cree Resort and Casino North Parking Lot. It will be on Friday, June 24th and Saturday, June 25th from 2 p.m. to 10 p.m. and on Sunday, June 26th from 12 p.m. to 5 p.m. There will be vendors, First Nation and local artisans, food trucks, entertainment, and more! This event is free to attend.
Image from www.rivercreeresort.com.
Closing out the month of June is the Edmonton Jazz Festival, which is taking place at various indoor and outdoor venues across Edmonton from June 26th to July 3rd. This event has over 30 years of history in Edmonton! Their website lists the line-ups and performances taking place.
Image from www.edmontonjazz.com.
That's it for the festivals and events for June! Stay tuned for a run-down of things to do later this summer.
Written by Jessica Frankiewicz
Advertising and Promotions Coordinator 2022 | CJSR FM 88.5