The Caribbean Connexion has been on CJSR's airwaves for over a decade. I had the opportunity to talk to the force behind this awesome, high-energy show, DJ Iceman.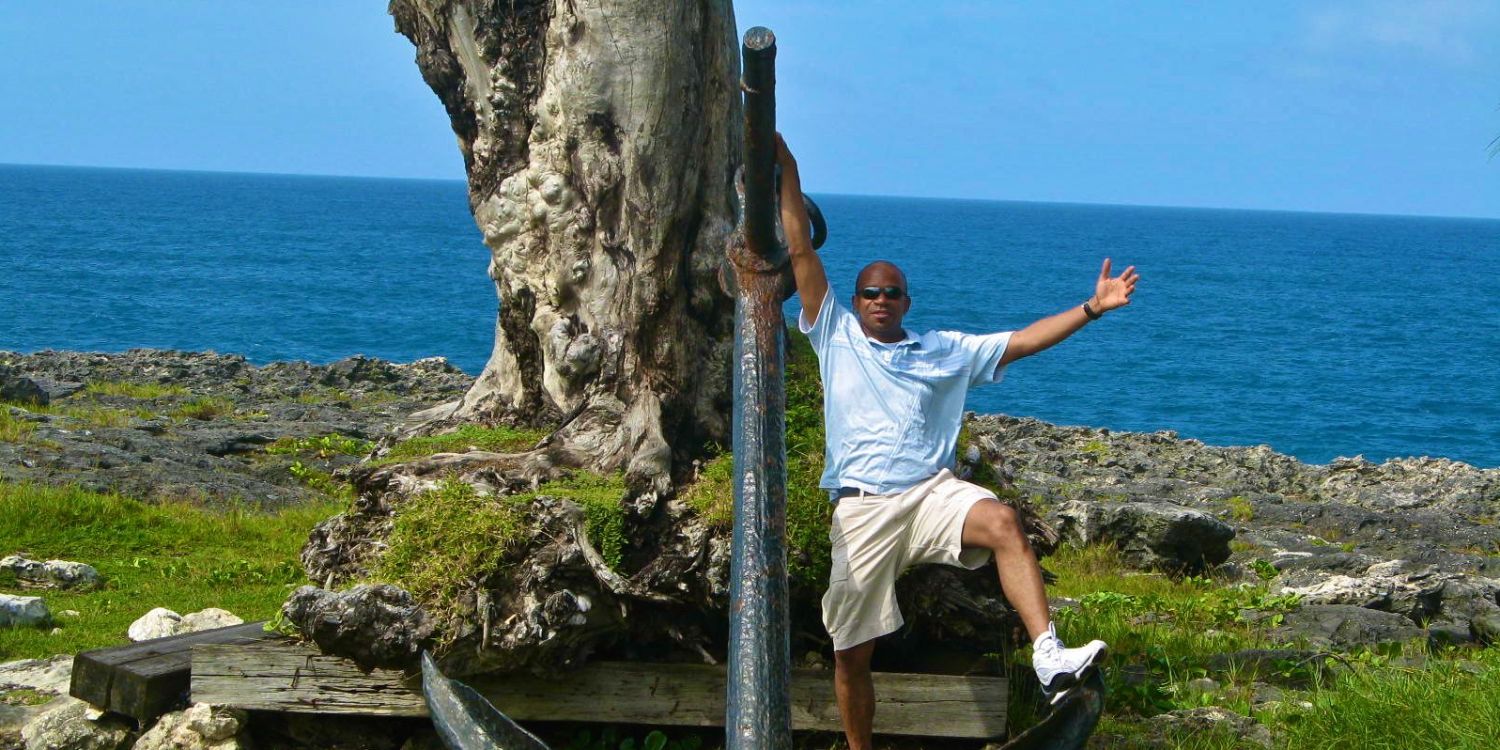 DJ name: DJ Iceman
Show: Caribbean Connexion (airs on Fridays 9 p.m. – 11 p.m. MT)
Why did you choose this name?
I grew up in Barbados and I've always been interested in music. I remember taking pieces of sticks and beating up the chairs. I wanted to be a drummer, but then I got involved in Reggae, back then it was known as toasting, mic chanting. When I first started, Yellowman and Papa Toyan were popular in Jamaica. In Barbados, we call ourselves mic chanters, similar to toasting or dancehall deejaying, as it's called today. I liked basketball, and there was a player called George Gervin, "the Iceman," who was pretty popular back in the day, so I chose the name Iceman, probably in the early '80s. From mic chanting, I kept that name as a DJ as well.
When did your show with CJSR begin?
Oh, that began back in 2007. Actually, I started up a sound system in Barbados, so I was doing a bit of DJing there. And when I left Barbados, I first migrated to England. I lived in Luton, and hardly any soca was playing on the radio, so I got the opportunity to play on some community radios and that took me all the way to the BBC Radio. Then I left England and came to Canada, and I wasn't working and was waiting on paperwork from the government, so I decided I was going to volunteer at CJSR in 2007. That's how I started.
How would you describe your show to someone who's never listened to it before?
It's a high energy show. I try not to do radio like the regular radio procedure where you can't talk over the music, where you have to play one song until it ends and then play another one. So in the Caribbean we kind of try to bring a dance feel to the radio. I talk about sports, authentic Caribbean news, information about upcoming events, free ticket giveaways, interviews with artists from around the Caribbean. Yeah, it's a real high energy show with a Caribbean feel, to make you feel like you're in the Caribbean.
What keeps you sticking around as a DJ with CJSR?
I see myself as an ambassador for the Caribbean, and even though I'm born in Barbados, I always see myself as a Caribbean man where I like to reach out to other people from different Caribbean islands and incorporate different Caribbean islands into my music. I try to play music not just from Barbados, but Trinidad, Grenada, Saint Vincent, Saint Lucia, Jamaica. My show is mainly soca and reggae, and recently I've been incorporating some calypso, Afrobeat, and also Latin music, because I recognize that there is a big Latin community here in Edmonton.
The reason I have the love and passion to do this for so long is because I want to keep the Caribbean culture alive and introduce and invite other people into the Caribbean culture, helping to understand it through music.
And also it keeps me in touch with my roots as well, because it's easy when you leave the Caribbean, living abroad, to lose yourself a little bit if you're not careful, you just forget your identity. So this show helps me maintain my identity as an African Caribbean.
What inspired you to join CJSR as a DJ?
I liked what CJSR was doing, challenging the status quo. It allows the DJ to have more creativity. You're not as restricted. I really like that. There are various shows, various ethnicities—the Ukrainian show, the African show, the EDM show, all that. That attracted me. It gave me the flexibility to produce the show how I wanted to. I have a lot of creative control over my show and I like that.
Do you have any advice for people who are interested in starting a show with CJSR?
What I would say is it's a commitment, you know, and it's a privilege and an honor to host on CJSR. Because I have met people who were hot at the time and they want to do it, but then they can't commit long term. So you have to be committed and have some willingness and humility. The CJSR family is so great. I get to meet so many different people, especially during Fundrive in October—pre-COVID, of course. You've got to enjoy what you do, believe in yourself, and have some confidence, and all things are possible. As long as the person is willing to put the work in and be committed, great things will happen.
Can you talk more about the radio experience you had before you started with CJSR?
I had been with the BBC for about two years and I was doing community radio for about four or five years. Also I've done a number of carnivals, like DJing in Trinidad, and I was involved in a carnival band in England, and we did maybe 10-12 carnivals a year, all across England. So I've had a lot of experience as a DJ and that helped transfer some of those skills onto radio. And I'm confident in myself, so I've never been nervous using a microphone. I've done emceeing here for the reggae festival and for a Richie Spice show, and also from my history of being an artist in Barbados, all those skills helped me with CJSR.
Could you tell us some artists you might be featuring soon on your show?
There's always a lot of new music coming out of the Caribbean. Right now, Barbados is getting ready for Crop Over Festival, so I'll be featuring lots of music from Barbados. Saint Lucia, Grenada and Saint Vincent and the Grenadines all have carnivals soon. Whoever has their carnival coming up, I tend to play more of their music.
Some of the big artists in soca music are Kevin Lyttle from Saint Vincent and the Grenadines, Rupert Clarke from Barbados. Bunji Garlin and his wife Fay-Ann Lyons from Trinidad and Tobago. Some soca music has made it into the mainstream, but it's still not as popular as reggae music. One of the first gold soca albums from Barbados was a group called Krosfyah with lead vocalist Edwin Yearwood. That album went gold in Canada in the '80s. Alison Hinds is a big artist from Barbados. Lil Rick is also from Barbados. Lyrikal from Trinidad is an up-and-coming artist. There's also Nadia Batson and then there is Machel Montano who is one of the top artists.
Nailah Blackman will be performing here in Edmonton for Cariwest. Motto from Saint Lucia will also be here. There's a number of artists actually coming up for the Cariwest weekend, which is on August 5-7, on Friday, Saturday, and Sunday. I'll be featuring a lot of these artists.
Thank you to DJ Iceman for participating in this interview and for dedicating so much time and energy to CJSR. Passionate people like you keep community radio alive!
Written by Jessica Frankiewicz
Advertisement and Promotions Coordinator | CJSR 88.5 FM