Makeout Mixtape is more than just a groovy music mix; it also spreads awareness about sex positivity and consent. I had the opportunity to interview Sarah, the creative force behind the show.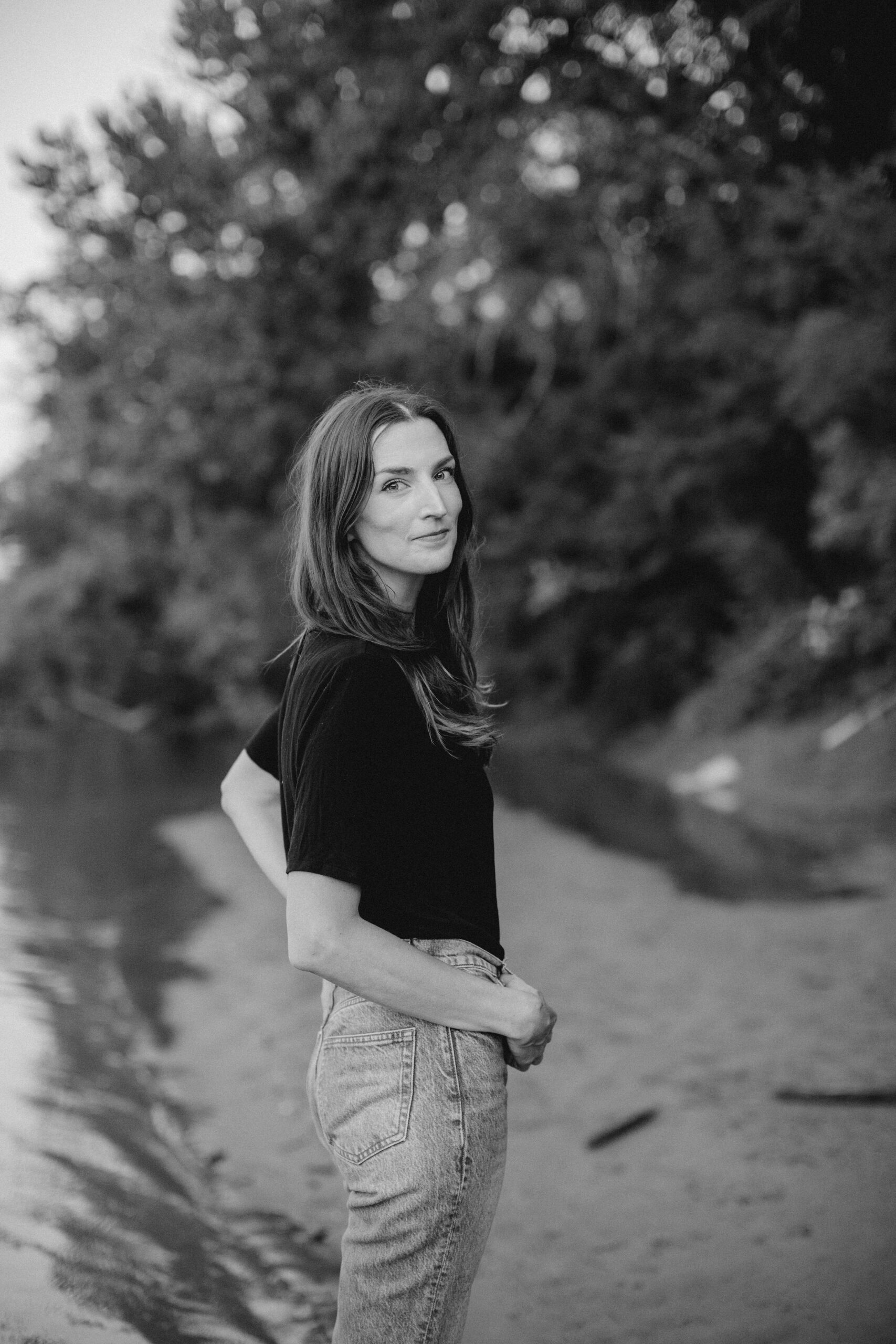 Makeout Mixtape: Tuesdays 6 PM – 7 PM
DJ name: Sarah
Why did you choose this name?
I just go by Sarah. I know that some folks have DJ names, but I just go by my first name. The idea of the show is really just about sex positivity and consent. And I didn't want it to seem like I was trying to hide who I was or that there was any shame or wanting to not be aligned with the show. I wanted it to be very, like, "this is me, I'm Sarah, that's my real name, and I'm here to talk about how there's no shame, no harm when it comes to learning about sex positivity and consent."
How would you describe your show to someone who's never listened to it before?
It's a quirky little creature. It's music to get off to alone or together, and consent is required. It's an hour-long music mix, and you'll only hear my voice at the top and tail of the show. The BPMs start slower and build throughout the show until it climaxes in the middle and then comes down from there. And I integrate sound clips of people giving and receiving consent, and talking about masturbation, and that it's natural and A-OK. For me, it wasn't about giving advice or being heavy-handed. I didn't want to be explaining how to give consent or what is and what isn't consent. I'm not a sex expert or a sex educator. I want it to be a fun show, something that you would want to dance to that has a really good beat, something you'd want to make out to. You know, just put it on and get it on.
It's just meant to kind of meet people where they are and not be heavy-handed with talking about sex positivity, but it's meant to normalize the idea of consent and gives lots of different examples. And it's weaved throughout the music. I can give some examples, like—Can I touch you here?; How does this feel for you?; Can I kiss you?; Do you like this? Basically the idea is to have different examples and show instead of tell.
Where do these clips come from?
I pulled some from old movies, but that was really tricky, so then I started going onto text-to-speech websites. You can choose a whole bunch of different voices, so you'll hear a range of voices. The show includes all sexual orientations. There are a variety of voices and experiences that are reflected in the clips that I use.
What inspired you to join CJSR as a DJ?
In my career I've been involved in the terrestrial radio and podcasting landscape, so I've worked as a producer with the CBC on a variety of local and national shows and also with CKUA for a number of years as a host and producer. I moved off of doing radio and worked more as a communications consultant, but I was missing the music element, and I've always wanted to learn how to mix music. I started taking DJ lessons before the pandemic because I wanted to get really good before I started the radio show, but that ended suddenly when the pandemic hit. So I was like, OK, well I guess I'm just going to do it. I found free software online and started mixing, so the first few months of mixes for my show weren't as good, but I'm getting better. I'm learning by doing, just trying it out and seeing what works. I'm totally self-taught for the most part, so yeah, it's just been kind of like OK, I'll try it out, let's see how this works.
As for the idea for the show—I don't know. When I was growing up there was this show called the Sunday Night Sex show with Sue Johansson, and it was a call-in show, and she would answer everyone's questions and there was no shame, no guilt. And I love the columns by Dan Savage, and I wanted to make that kind of thing even more accessible, and make it playful too.
Growing up, there's a lot of shame surrounding sex and masturbation, and maybe there still is. And I just want to counteract that in a small way using my skills in producing radio and podcasts. Hopefully people will listen for the music and then they'll also just kind of hear the examples and learn a couple techniques, ways to give and receive consent, glean bit of sex positivity.
You mentioned your show started around the same time as the pandemic. How did that affect things for you, and do you think you'll want to get back into the station when that's possible?
It's so funny 'cause I have never been into the station to do the show because my show has just been during the pandemic. I'd have to figure out if I could use the software that I'm using at the station. That would be like upping the ante. That would be a whole new experience, mixing live. I've never done that, but I'd be willing to give it a shot. I love going into the station and checking out all the vinyl and just being around the community, because it's such a great community. But I just haven't really had the opportunity. If I was doing it live, it would actually cut down on my production time. I'd love to learn how to do that.
It's kind of a little nerve wracking to share how I've been mixing music because I've been using the techniques that I used as a radio producer, when I was creating documentaries for CBC and CKUA. If I learned more about actual DJ technology and tools, it would probably make the process easier, so that's something to look forward to. I know there are a lot of great shows at CJSR that do great mixing and live DJing—From Here We Go Sublime is an example, which is right after Makeout Mixtape—so I know there are people out there that I can learn from.
Can you talk more about the radio experience you had before you started with CJSR?
Doing radio for my career, I've used all kinds of different software, but the one that I have on my home computer is Adobe Audition. I also work with VirtualDJ, which is the free platform that I use to actually mix the show, and then I'll put it into Adobe Audition. I'm fortunate in that I have the mics and technology that I've used in my career for creating podcasts for folks, so I was able to produce away from the station more easily than somebody that wouldn't have had those actual physical tools to do it.
Do you have any advice for people who are interested in starting a show with CJSR?
I think the biggest thing when it comes to radio and podcasting is that it takes time, and it's really about the consistency and the sustainability of it. So doing a show is great, but you need to know how you can keep that up, so it can be every week, or every second week, and it depends on how much time you have to deliver a show consistently. I know a lot of people want to start podcasts, and they do, and they get a few episodes, but then it just fizzles out because it requires that consistency. So, yeah, I would just encourage people that if they want to pursue something like a radio show, just to look at it as a long-term commitment. With radio, it takes a long time to establish an audience. In my work in journalism, it really takes 2, sometimes 3 to 4 years to establish a really solid, consistent audience. Having that instant hit is really rare, and it's about the slow burn, so making sure that you have the time to put in the work and deliver on those shows every week is really important.
How many hours do you spend each week on your show?
It varies, because some weeks I'm constantly listening to music and I'll build playlists by like, oh, this sounds like I could mix it together. I need to find ones with slower beats that will build, and find faster ones that will be able to make that climax. It just depends on how well I'm able to connect the music in a week and what I'm listening to and how much time I have to listen, so that's probably at least an hour or more. And then the actual part of finding the music, downloading it, and then uploading it into the DJ software. Mixing takes at least an hour. Then I have to go back through and add the audio clips of consent as well as my voice at the start and finish of the show. I'm gonna say probably four hours a week, sometimes more, sometimes less. I try to carve out some time every week so I can deliver.
What are you listening to right now?
I don't want to sound cliche, but I like everything. I like Taylor Swift and Harry Styles and Missy Elliott, Beyonce, Lizzo, but then I also love the War on Drugs and Faith Healer. It just depends on what mood I'm in, like if I want something mellow or something to make out to. Anything by William Onyeabor is incredible. He's a Nigerian funk musician, and his music blows my mind. It's so timeless. I have to hold myself back from including his music all the time. The compilation from 2013 called Who is William Onyeabor? is a gem. I always go back to it.
Thank you to Sarah for participating in this interview and for dedicating so much time and energy to CJSR. Passionate people like you keep community radio alive!
Written by Jessica Frankiewicz
Advertisement and Promotions Coordinator | CJSR 88.5 FM