Ever wondered what it's like to be a volunteer with CJSR? Trevor Talbott tells us all about his journey, from recording his first interview to hosting his own show at CJSR.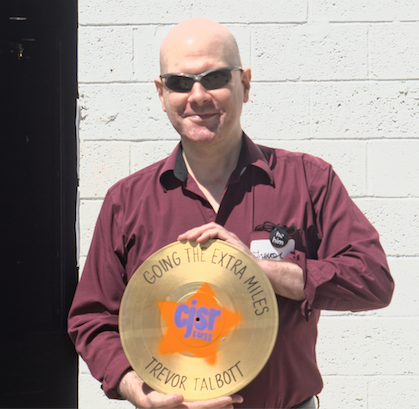 Trevor Talbott is the host for the new show Theatre Seen, which airs Fridays at 6pm, starting September 30th!
Can you tell us about how you got started with CJSR and your journey thus far?
I saw a flyer posted to a billboard in one of the hallways at the University of Alberta, and it said something like, "Do you want your own radio show?" So I thought, "Yes, I'd like my own radio show." And then a volunteer came into my classroom and talked about the station, so I decided to volunteer.
At the station, they told me the next news training was the following Saturday, so I went to that, and I recorded an interview with somebody, edited it, and then the station aired it. I was surprised by how quick it worked. And then I thought, oh, I should do this regularly, I like it. And then I got better at it. And then eventually I branched off into having my own show.
What was the process for your first interview?
I just emailed the Artistic Director for Studio Theatre at the University of Alberta and asked them if they would want to do an interview to talk about the new season.
After that, I emailed a couple other university professors I had in the drama department who were involved in plays, and so I had those connections. I asked them if they would be interested in doing an interview and just kept doing it. And then I started doing it basically weekly for Generator.
Did you have any interview experience before you started?
No, but I was always a big fan of talk shows, like David Letterman and Jay Leno and Craig Ferguson and Conan O'Brien, and I feel like I developed all my conversational skills from them. I was also kind of an antisocial introvert, so watching them talk to people was something I enjoyed and something I kind of thought I would like to do. Getting to do it on the radio allows me to kind of imitate what I saw them doing, so I'm kind of following in the footsteps of some of my heroes in that way.
How long did it take you to get from recording your first interview to creating your own show?
Probably three or four years, I think. I did it for Generator off and on, and then in the past year I kind of started doing them weekly. I pitched the show to CJSR and they liked the idea because there was no arts show on the station, and I love theatre, so it was a natural fit.
What was the process of getting the show from an idea to a reality?
I pitched the show to Chad and Meagan at the station, and they said I should have some correspondents, because the more people you have working on the show, the easier it is for you. So while volunteering with the CJSR table at events, I asked other volunteers if they would be interested, and I also reached out to people I heard on the station. We ended up getting several people to help interview and edit. I didn't really have to do much in terms of putting together a team. It kind of happened naturally; they sort of came to me.
How do you feel you've improved as an interviewer?
I feel I've improved a lot. I remember the first interview I was so nervous. I couldn't hear my interviewee through the field recorder, and then I realized the headphones weren't plugged in, and I had to kind of start and stop. They seemed to be getting frustrated because their ride was waiting for them. I had paragraphs of all these long, elaborate questions. I forgot my reading glasses, so I was reading in this odd, choppy way. My brother said I sounded like I was doing a William Shatner impression. Also, even though I knew I was going to be editing the recording, I felt like I had to fill in all the dead air, so I kept talking and didn't pause.
By the third interview, I started to realize I can just pause and take a breath and I can start something over if I flub a sentence. I also stopped writing such long questions and would come with maybe three or four questions I wanted to ask and then just follow up in the moment on the things they say.
I started doing that by accident, because for one interview the director brought along somebody else I wasn't expecting, and I had no questions for them, so I just winged it. And that interview sounded the best, because it was just smooth and conversational. So then I thought, let's just wing it for the next one. And I would prepare just a few questions in advance. It went really well, and then I thought, oh, that's kind of the trick. I felt like once I prepared too much or had questions that were too elaborate, then I kind of got bogged down in it. It was like swimming and being tangled up in seaweed or something, but once I just started talking to people it was much better.
But every so often, like if there's a new venue or a new person I'm talking to, or it's somebody that I've seen on the stage for a while, I can get nervous and flustered and go all the way back to how I was in the beginning.
What other skills do you think you've developed with CJSR?
There was a time where I was really nervous about talking to people, and now it feels natural and I just go and talk to them. I don't get too worked up about it. I've also met friends at the radio station. So I feel like everything that I've done in terms of improving all of my people skills has been because of the radio station.
I've also gotten better at editing. When I used to edit the segments, I would have to edit out every little pop and click noise, and I'd have to make sure they were perfect. I'd spend 12 hours on each segment. Then it got down to 8 hours, and now it only takes me 3 or 4 hours, and I don't have to edit as much because the conversation flows well enough that I don't have to cut all the weird mistakes.
How would you describe your show?
It's a radio talk show about local theatre actors. I talk to them about their careers and what brought them to theatre, their projects, the play they have coming up and who they're playing and stuff like that. I'm hoping to have musical performances on the show as well, so if they're in a musical, have them come on and, you know, sing a number on the show—if we can get clearance rights for those kinds of things, which is complicated.
Can you talk about the perks that come with having your show?
Yeah, that's something I was surprised by. I never did this for free tickets. I always thought, you know, if someone gave me free tickets, it would be nice, but it wasn't something that happened very often. And I'm just happy to support theatre. So once I started this show and reached out to media coordinators, they put me on the media lists, and I was invited to opening nights. I was surprised. I've been getting steady emails from various theatre companies inviting me to shows.
Do you have any advice for people who are interested in getting involved with CJSR?
Yeah, just come out and give it a try. Come and do the news training and find a topic you want to talk to somebody about. You can interview, you know, a local café owner or whoever, your parents, or if you know somebody who's an artist, you can talk to them about what they do. Then you edit the interview. CJSR shows you how to do that here. They show you how to use the field recorder, show you how to edit the segment, and then you kind of get a feel for it and develop your own tone and put in music and stuff like that. And then you can go from there.
What do you love about CJSR?
I don't know. I like it. It feels like home. Everything that I started doing and everything that kind of branched out from there, in terms of other projects I've worked on and other people I've met, have kind of all come out of my time at the radio station. It allows me to have behind-the-scenes access to theatre. I get to meet playwrights like Stewart Lemoine, sit down and talk to him for half an hour, and that's really cool. I get to talk to all these people that I've watched on stage and admired for so long. I want to bring other people into this world too and show them the amazing world of theatre.
Why should people tune in to your show?
If there's somebody who loves theatre, they have to check it out because we bring this behind-the-scenes, backstage access and talk to people that they probably know and are interested in. Even if they're a casual theatre goer, there's something in for them because I don't just talk about the plays that are coming up; I talk to the actors about their childhoods and how they got into theatre, the creative process behind being an artist, those kinds of things. So I think there's a greater human interest in terms of the interviews. It's more than just talking about theatre.
Thank you to Trevor for sitting down to talk with me!
Tune in to Trevor's new show, Theatre Seen, Fridays at 6 pm. The first episode airs this Friday, Sept. 30th!
Written by Jessica Frankiewicz
Advertising and Promotions Coordinator | CJSR 88.5 FM