We're nine days away from our annual FunDrive: Once again, CJSR FM 88.5, Edmonton's campus and community radio station, will be opening up its phone lines, doors and hearts for the annual FunDrive, October 27 to November 6, 2020. The 11-day on-air fundraising campaign will collect donations from every corner of Edmonton to support community radio in our city.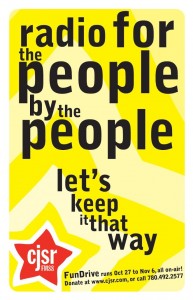 This year's FunDrive features no shortage of NEW STUFF, including scarves and belt buckles as donation swag, plus some premium giveaways that will be drawn from our donor pool at the end of the Drive. EVERYONE who donates to CJSR during FunDrive this year will be entered into a draw for these GRAND PRIZES:
A 2008 KYMCO Super 9 AC scooter, donated by The Trike Zone
A $2000 flight voucher to any "Non-Stop Sun" destination, donated by the Edmonton International Aiport
AND We've got a few special events going on during the FunDrive this year:
TV Vaccine's annual MONSTER MASH-UP on All Hallow's Eve (Sunday, October 31) at the ARTery is donating their proceeds to FunDrive: check out The AwesomeHots, mmmBerta, Me & Mr. Smith and guests, plus CJSR DJ's spinning tunes live.
We're also throwing a BENEFIT CONCERT on Friday, November 5th at the ARTery (9335 Jasper Ave), featuring a killer local line-up of BOMBCHAN, KRANG, and BLACK MASTIFF. Tickets are $10, doors open at 9pm.
With your support, we hope to make this the biggest and best FunDrive of all time. So tune in, turn on and drop some cash, and help support Edmonton's best radio station this October 27 to November 6.
For more info contact:
Fawnda Mithrush | CJSR FunDrive Coordinator
fundrivecoordinator@cjsr.com
w. 780.492.2577 OR c. 780.995.8339
www.cjsr.com