CJSR is proud to be a sponsor of the University of Alberta's International Week 2016: For a Better World, running January 25-31.
International Week features prominent speakers, films, workshops, and performances that address global issues and celebrate cultural diversity.
Everyone is welcome!
Programming for I-Week 2016 will revolve around the Sustainable Development Goals (SDGs): 17 ambitious goals that aim to "eliminate extreme poverty, fight inequality and injustice, and fix climate change" by 2030.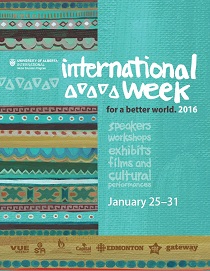 Check out over 50 free events on campus like:
Speaker Marina Nemat on In/visible Scars of Torture
Tuesday, January 26 at 7:00 – 8:30 pm
Edmonton Clinic Health Academy L1-490
Welcoming Refugees into Our Communities: A Faith Response
Wednesday, January 27 at 2:00 – 3:20 pm
International House Meeting Room
Film: A Convenient Truth: Urban Solutions from Curitiba, Brazil
Thursday, January 28 at 12:30 – 1:50 pm
Telus Centre 134
Stephen Lewis, celebrated humanitarian and former UN Special Envoy for HIV/AIDS in Africa:
The UN's Sustainable Development Goals: Implications for Canada and the World
Friday, January 29 at 7:30 – 9:30 pm
Centennial Centre for Interdisciplinary Science 1-430
Get your free tickets and full program information at globaled.ualberta.ca/iweek
And follow the week's events with the hashtag #iweekualberta.