The singer-songwriter brings his unique brand of indie-folk to Fort Edmonton Park on Friday, June 2!
From the small community of Sioux Lookout, Ontario, Ojibway musician Nick Sherman will perform an equally intimate set at Fort Edmonton's historic Capitol Theatre on June 2. Echoes of his youthful enthusiasm for hardcore punk can still be heard in the vitality and intensity of his world-weary, rich indie-folk tunes, communicated with honesty and depth through his rich vocal and guitar work.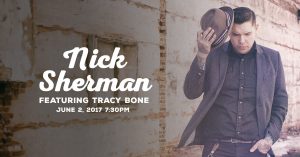 Opening the 7:30 PM bill is Tracy Bone, a multi-award winning country songstress from the Keeseekoowenin
Ojibway First Nation in southwestern Manitoba. Advance tickets are available now!