Thursday, August 28, is the AGM for FACRA(First Alberta Campus Radio Association) CJSR 88.5 FM in Edmonton, Alberta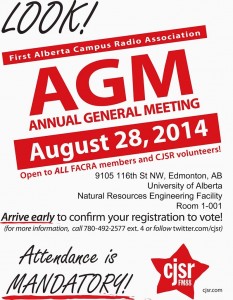 We bring you this 'How To' guide for the Annual General Meeting! This will tell you everything about the upcoming AGM!
How To: The Annual General Meeting Edition
Find the building:
Address: 9105 116th St NW, Edmonton, AB T6G 2W2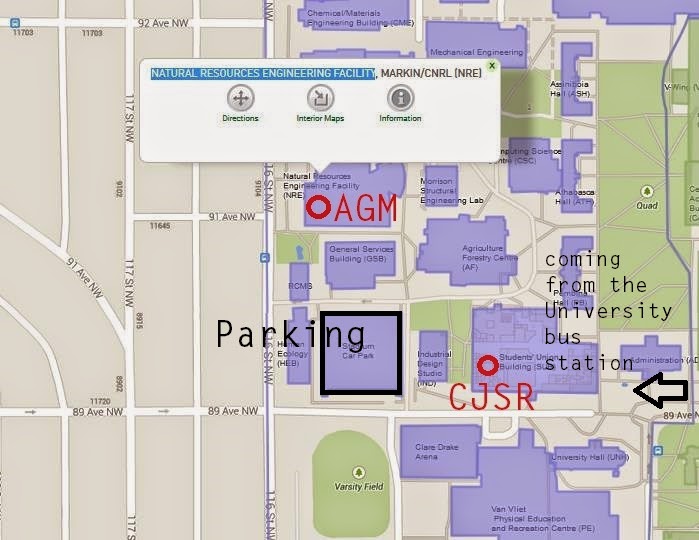 Frequently Asked Questions (FAQ):
I don't know if my membership is current!
We will have the capacity to check and make sure that you have an updated membership so you can vote, nominate, and run for the board if you so wish! Ensure that you bring $20 cash with you to pay for your membership if you think it is expired and needs to be renewed.
I want to run for the board, but I don't know how…
First you should take a look at the positions here!  Step two reach out to cara@cjsr.com and she will send you more information on what you need to apply. Third is once you have decided a role that best fits you get another FACRA member to nominate you. Fourth, please prepare a 1 minute speech to tell the membership about you and why they should vote for you! Finally,show up to the AGM and do your best!
How do I nominate another person to run as a board member?
You have to be a current FACRA member and in good standing and then all you have to do is say, "I would like to nominate _______ for the FACRA board of directors"
I am ready to vote! …umm, how?
Again, make sure your membership is current and you are a member in good standing before the AGM starts (7 pm) and you can raise your hand high in the air and have an impact!
I am not a member but want to catch the AGM, can I still come?
Of course! The AGM is open to the general public, including those who do not have a membership, but there are a few stipulations. 1. You CAN join as a FACRA member at any time 2. Unfortunately, you cannot vote
How long will the AGM be?
The AGM opens at 5:30 pm and starts at 7:00 pm and is completed around 10:00 pm
Where can I find the minutes, financials, and agenda?
Agenda 2014
Financials 2013
Financials 2014
Minutes 2013 AGM
Proxy your vote to another person
Will there be food?
Sorry, we will not have food available! Please eat prior to the meeting.
I want to help with the election!
Great! We need at least 2 people as scrutineers to count ballots in the case of an election. Please let us know prior via email at cara@cjsr.com or at the meeting.
If we missed any questions please comment below and we will answer ASAP!