President's Message 2014 AGM
Good evening, everyone. Thank you for making the time to join us at CJSR's annual general meeting.

I want to begin by saying it has been a pleasure to have served as president of the FACRA board over the last few years, and I am proud to have done so with many dedicated fellow volunteers and community members who have a deep love for this organization.
It has not been without its challenges, but overall, the board has overseen a station heading into a very exciting and transformative period in its history
Perhaps one of our greatest moments in this, our 30th anniversary, was winning the John Poole Award for Promotions of the Arts, at the Mayor's Celebration of the Arts, held earlier this year at the Winspear Centre. The award – and the circumstances of winning it – is tactile recognition of the work we collectively do, promoting local culture on our airwaves every week, whether it's local bands, poetry, theatre, dance and so on…
Also, CJSR earned considerable recognition at this year's NCRA conference, with several of our volunteers awarded for their creative production work and news programming. Robin Egerton, Timothy Wilson, Joe Hartfeil, Chris Chang-Yen Phillips & Alyssa Hindle should be congratulated for their outstanding work.
Hosting the national Homelessness Marathon in February was another milestone for our station. For the first time in its twelve year history, the marathon was moved from its original host, CKUT 90.3 FM Montreal. On February 26, CJSR joined forces with 16 campus community stations across the country to spotlight the crisis of homelessness in Canada.
CJSR also welcomed journalist David Barsamian to our city for an exclusive speaking engagement at the Stanley A Milner Theatre in April.  David's independent programme, Alternative Radio, has been a cornerstone of CJSR's new programming for some time, with his challenging take on the media, commerce and government.
We also successfully renewed our CRTC license, which will ensure that our station can continue to broadcast its incredible programming for another seven years.
But our year began with a terrible tragedy, with the loss of our friend and volunteer, Dave Finkelman. As host of several shows – Big A Little A, Resistance and Darkness of My Soul – as well as a committed musician and scene champion, we all knew Dave as a humble yet enormously talented artist, who challenged our boundaries and expanded them, and made us want to be better broadcasters.
We were honoured to have Dave's family join us earlier in the summer at our Volunteer Awards to witness the presentation of the Dave Finkelman Show Of The Year Award, which was won, naturally and deservedly, by Big A Little A.
So it's obvious that the last 12 months have been a roller coaster. We have experience incredible victories and unfathomable tragedy. But the ride goes on, and we continue to produce incredibly entertaining and informative programming that challenges the status quo.
CJSR could not have persevered for 30 years without challenges. We will have obstacles before us, as our predecessors experienced. But there will be amazing things ahead as well.
Last year, I had the pleasure of introducing you to the FACRA board's strategic plan for the station. It was born from several long sessions involving some very frank and honest discussions about the station's history, and where we felt the station was headed.
We have overhauled our policies to bring them in line with present realities.  Our programming committee has begun the work of reviewing shows, to offer guidance on improving the overall quality of our broadcasts. Our Star Card program has been completely recreated as the Friends of CJSR program with dozens of local business, new and old partners all.
In the coming weeks, we will see a brand new website, being designed by local company Kobot, who have dived into the project with extensive consultation to create a platform that will not only enhance the CJSR public brand, but strengthen our ability to transition a listener to a donor to a volunteer. If all goes well, we should see our new site up and running in time for FunDrive at the end of September.
And in the coming year, we will see new faces amongst our staff, as established positions are joined by newly created roles for programming, marketing and volunteer training and education.
I want to take this moment to salute our staff, past and present, who have done such a remarkable job supporting us in our work, beginning with our SMED Sarah Edwards. During her tenure, she has helped implement considerable changes in our administration and helping the board execute policy and new directives. As her contract comes to a close in the coming months, and we begin the search for a new SMED, let it be said that, Sarah, you have done us an incredible service, and we are in your debt.
Matt Hirji, our outgoing News Director, oversaw a successful and talented department, and as he moves onto new adventures in his life, his enthusiasm and insight will be missed, and we look forward to welcoming a new face in that position quite soon.
Mark Rogers has excelled in his role in production, raising his game with his digital skills. His gifts will be most evident in our commercials and live recordings, many of which will be spotlighted on our upcoming 30th anniversary compilation. He may be moving onto a new place in the broadcasting world, but he will always be a welcome member of our family.
Chad Brunet is ever enduring as our Music Director and Volunteer coordinator, not to mention one of my personal favourite morning hosts. I can barely imagine a time before he took over the clutter of that office, and he consistently quarterbacks our musical lifeblood with a superhuman enthusiasm and skill.
Miles Wilkinson has been a godsend for us, keeping the station on the air with his expertise, tinkering and perfecting our signal, and ensuring our technical backbone is strong. I can't think of a time when I've been through the station on business where Miles hasn't excitedly explained a new idea or innovation he's devised. He's the engineer we need, and we thank him.
I also want to acknowledge Fiona Yates, who, until recently, served as an administrative assistant at our station. Her role changed as the need came, and her love for this station is unquestionable. I look forward to her continued presence as a volunteer at CJSR.
And finally, although her position is temporary, Cara Ashbey has been doing an amazing job helping us shape our social media presence, and it's been fun to see our digital identity already finding a new voice.
But the real thank you goes to all of you, my fellow volunteers. Your efforts every day are the heartbeat of CJSR, and as my tenure as president comes to a close, let me conclude by saying that it has been a pleasure to serve on your behalf, and I am proud to be in your company.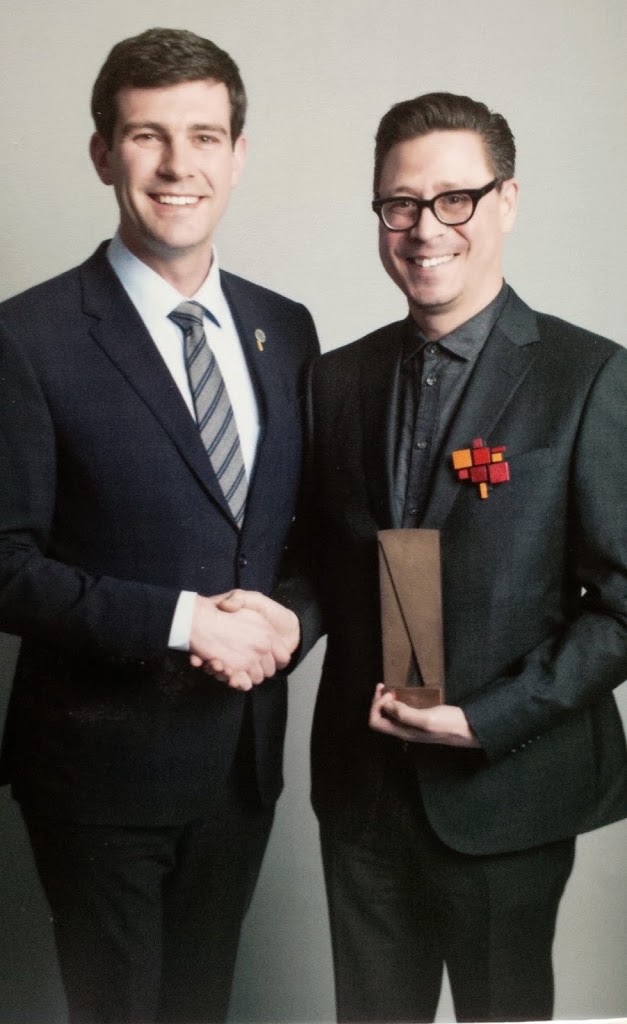 (Board Chair Dave Johnston pictured left with Mayor Don Iveson receiving the John Poole award for Promotion in the Arts 2014)