CJSR is proud to help issue an Alberta-wide audio challenge, and we want you to join in.
Have you been bursting to try out audio storytelling? The Herd Audio Challenge invites Alberta-based radio producers and fans alike to create a three-minute audio work that relates to a specified theme, adheres to two rules and is completed in two months.
You have until January 31, 2016 to create a piece that tells a story in three minutes or less. You can submit your mp3s throughout the two months, but no later than 11:59pm on January 31, 2016 (MT). Once you send it in, it'll be posted to The Herd's website for the public to enjoy. In February 2016, the best stories will be featured across Alberta on radio stations in Calgary (CJSW 90.9 FM), Edmonton (right here on CJSR) and Lethbridge (CKXU 88.3 FM).


2015 The Herd Audio Challenge criteria: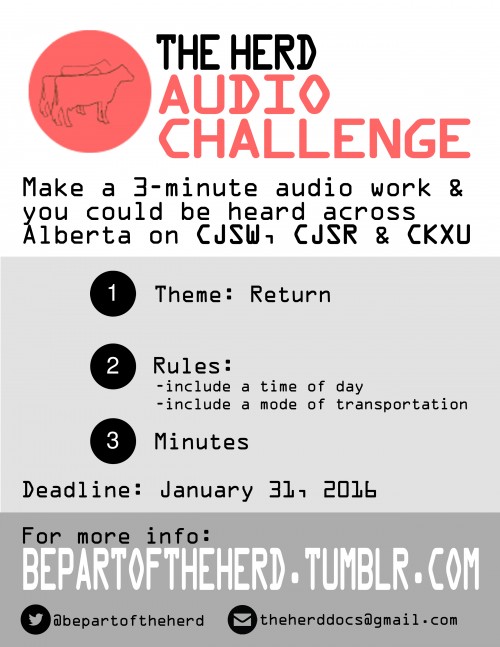 *Listen to sample pieces here
It's based on the Third Coast Shortdoc Challenge, an international competition that's been running for 10+ years out of Chicago, USA. The first Herd Challenge ran in 2014. It's not about competing against one another or comparing professionals to amateurs. The Herd's goal is to foster a community of radio-interested Albertans and build radio skills across the province by setting a challenge and deadline. The Herd is focused on Alberta audio artists with the aim of uniting Alberta audiophiles, exposing Albertans to audio art and celebrating audio artistic talent based in the province.
The Herd Audio Challenge is organized by three seasoned Albertan radio producers, Megan Clark, Sarah Hoyles and CJSR News Coordinator Chris Chang-Yen Phillips.