Celebrate Earth Day 2023 with the seventh annual Wetland Project Slow Radio Broadcast on Saturday, April 22.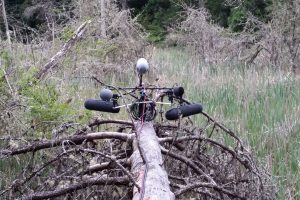 Connect to the circadian rhythm of the ṮEḴTEḴSEN marsh in unsurrendered W̱SÁNEĆ territory (Saturna Island, British Columbia). The sounds of birds, frogs, airplanes and more, take over the airwaves for this twenty-four-hour experience in "slow radio" created by artists Brady Marks and Mark Timmings. CJSR is just one of the participating radio stations across Canada and the US. Tweet @wetlandproject to add your voice to the interactive online stream.
The broadcast engages its audience in real time and stimulates a powerful re-enchantment of our relationship with the living environment.
Climate emergencies, political upheaval and the ongoing pandemic are raising societal anxiety. It's important to stay informed, but now more than ever, taking a day to pause and reconnect with the "other-than-human" world helps listeners to collect their thoughts and find a footing in these tumultuous times. The slow-radio format provides a life-affirming break from the stressful news cycle and offers time to reflect upon a more lucid and caring future.